Whether You're a
Beginner or Advanced…
Get Your Whole Body Into Amazing Shape In 7 Minutes…
And Have Fun Doing It!
---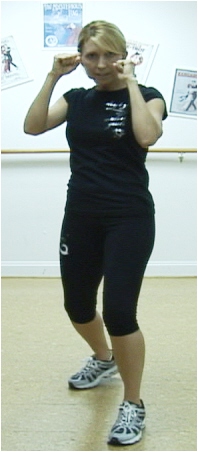 Dear Health Conscious Friend,
I'm going to share a secret with you I discovered eight years ago.
I've always been concerned about my health and my appearance, but I found that I hated going to the gym and doing long workouts.
First of all, if you have a busy life like I do, it's hard to find the time to drive over to a gym. Secondly, those long work outs are just not fun to do.
Then, I discovered a way to get into awesome shape quickly that I actually enjoyed doing.
I found out about cardio kickboxing workouts.
Before I tell you more about why cardio kickboxing is going to be your answer for getting into shape, let me introduce myself.
My name is Laura Devlin.
I am in my forties and have been training in martial arts for the last 8 years.
In fact, I am actually a professional martial arts fight promoter. I produce between 8-12 martial arts fight nights each year. Some of these shows are very large with thousands in attendance.
So, as you can see, martial arts have become a big part of my life.
But, what happened is that my friends and family were so amazed at the changes that took place in my body, they wanted to know how I did it.
Between my fight promotion business and other activities I really didn't have time to start teaching everyone on a personal basis.
But, a friend of mine who is in the video production business, suggested that I create an instructional DVD. This way everyone who wanted could enjoy my work out system.

If you haven't heard much about cardio kicking let me tell you a little bit more about what it is.
The Rage That's Taking Over the Country
"Cardio Kickboxing", is the new rage of fitness buffs and everyday people searching for an energizing and practical workout.
"I noticed results almost immediately. My body is much more flexible, I've shed over 40lbs., and my energy level has soared", says Stacey T., a cardio kickboxing student.
Periodically, there is always a new type of exercise that is ready to take the world by storm.
In the late eighties Jane Fonda and her aerobics classes were what everyone was doing. In the early nineties, the step bench was introduced and heart-pounding step aerobics quickly became the newest fad.
Why Cardio Kick Boxing is Better
Now there's cardio-kickboxing. To give you an idea of how popular it is, you should know that nearly 80% of health clubs nationwide offer it in their class schedule.
Sometimes called boxing aerobics or just plain kickboxing, cardio-kickboxing is a hybrid of boxing, martial arts, and aerobic dance.
It's so awesome because it offers a great cardio workout without the mind-numbing boredom that can comes with the typical gym workouts. And, it actually builds almost every muscle in your body.
According to a recent study by the American Council on Exercise (ACE), cardio-kickboxing participants can expect to maintain a heart rate at 75% to 85% of maximum, well within the recommended 65% to 85% range for aerobic exercise.
____Yes, Laura, I want to begin reaping all of the amazing health benefits of cardio kickboxing. I understand that your program contains both a Beginner's and Advanced Workout program, so I'll be able to use the one that's right for me. Finally, I also understand that I will have no risk because there is a 100% thirty day money back guarantee.
But cardio-kickboxing has a distinct advantage!
It's a totally versatile, cross-training workout. No other workout improves strength, flexibility, coordination, and reflexes the way cardio-kickboxing does.
"You burn tons of calories and get into terrific aerobic shape without having to run miles and miles," says Dan Hamner, MD, a sports medicine and rehabilitation specialist who works with competitive fighters and martial artists in New York City.
Cardio Kick Boxing is for Everyone at Any Age
I don't want you to think that you're going to need to start having karate matches with people to enjoy the benefits of cardio kick boxing.
In a cardio kick boxing workout all you do is throw punches and kicks into the air.
And, don't think that you need to be a flexible kid to do this. I'm in my early forties and I plan on exercising for the next fifty years, so I'm not going to do anything that will wear down my body.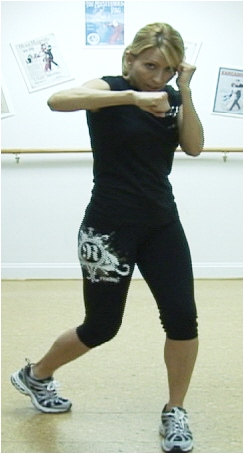 With cardio kick boxing, you can do it at your own pace and level. For people who are beginners, you can throw soft low kicks that won't be too demanding.
Naturally, if you're more advanced then you can do more challenging work outs.
Here's How it Works…
Before I even have you try any moves, I teach you a few easy and painless warm-ups, so you don't strain any muscles.
Then, I show you some of the basic elements.
You'll learn how easy it is to do some basic kicks and punches.
But most importantly you'll learn what a great workout doing these kicks and punches will give you!
Listen to all of these muscles that get used when you do cardio kickboxing:
Calves
Thighs
Glutes
Torso
Abs
Shoulders
Biceps
Triceps
Deltoids
Trapezoids
Back
Sabrina Bichao, CPT, an aerobics instructor who teaches at several Boston-area gyms says, "virtually no body part is left unworked."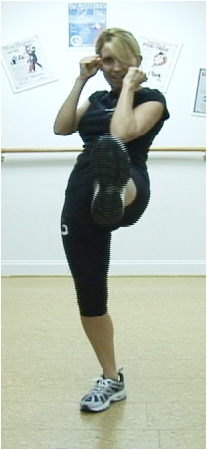 Your Workout Will Only Take
7 minutes to Complete!
If you're wondering how you could get into shape in just seven minutes you should know that modern science has learned a lot over the last few years.
It turns out that all of those people that are working out for an hour or more on a tread mill are actually accomplishing the reverse of what they want to achieve.
When you do long extended workouts your body kicks into survival mode.
It starts to fear that it won't have the energy to continue for an unknown amount of time.
So, it slows itself down and works more efficiently.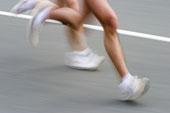 It does that by shrinking muscles and organs.
If you doubt what I'm saying I suggest you take a look at any marathon runner. They're very thin with pencil width arms and legs and ribs jutting out of their bodies.
Yes, they can run great distances, but do they really look fit and healthy to you?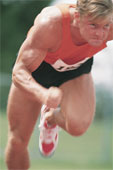 Compare them with sprinters that train for short quick bursts of needed energy. The difference in their physiques is all you need to see to know what I'm telling you is correct.
A Beginner and Advanced Program
I know from my own experience starting out that everyone isn't in the same shape.
That's why I created two different program: A Beginner's Program and an Advanced Program.
For each program how it works is that there are 4 different combinations that you do. Each combination is done for 1 minute that is followed by a cool down of 1 minute.
During the cool down you can just walk in place or if you're more advanced you can do something more strenuous like jumping jacks.
Once the cool down is over you do the next combination. You just keep repeating the sequence for the four different combos.
In seven minutes you'll have gotten a great workout.
All of your body's muscles will be pumped up, your heart rate will be way up and you'll be breathing heavy, working on making up that oxygen deficit that you'll build from doing those combos.
The difference between the Beginner's and Advanced Programs is simply that the combos for the Beginner's Program is designed so someone that's never done any martial arts can do it.
____Yes, Laura, I want to begin reaping all of the amazing health benefits of cardio kickboxing. I understand that your program contains both a Beginner's and Advanced Workout program, so I'll be able to use the one that's right for me. Finally, I also understand that I will have no risk because there is a 100% thirty day money back guarantee.
You'll be able to do it even if you're not in great shape right now. On the other hand, the Advanced Program has some pretty demanding combos that will give you a great work out even if you're in superb condition.
Feel Empowered and Strong
It's just natural that when you do a cardio kickboxing workout you're going to feel strong and powerful.

Truthfully, if you ever wanted or needed you could use these skills to defend yourself quite effectively.

Of course, we're just trying to have fun and get into shape.

Still, it's nice when your body feels strong and vital.
A Normal Club Membership Ranges
From $35-$75 a Month
Even if we take this at the low end, you're looking at a minimum of $420 for just the first year if you wanted to take a class at a gym or martial arts studio.
Plus, with this work out you'll actually be able to do because you can do it in the convenience and privacy of your own home. And, I'm going to teach you how to do it all.
There's no feeling embarrassed because you don't know how to do it or maybe you need to start out kicking very low.
Even though it would cost you at least $420 for a first year's training with the magic of recording your workouts on a DVD, I can offer you my system for much less.
I'll give you the exact price in one moment, but first I want to give you one more bit of great news.
You'll Have No Risk!
I am so confident in how effective my program is…how delighted I know you're going to be with it…that I'm going to give you my personal guarantee.
I will give you a full 30 days to try out my Cardio Kickboxing Workout Program. After you've thoroughly tried it out, if for any reason you're unsatisfied, simply mail it back and I'll see that you get a full refund.
I simply couldn't be fairer than that.
Okay, so as I've explained this program is going to get you into shape unlike any other kind of exercise program. And, with my revolutionary system you're going to be able to get into great shape in only 7 minutes a day.
Only $29.95!
Yes, that's not a misprint.
Even though it would cost you so much more to take these classes…and there is nobody else that explains how to do it all like I do…and has a beginner and advanced program….I want to make sure that this program is affordable to anyone who wants to try it.
There's a reason cardio kickboxing is so popular.
It's the best overall exercise program available. You get your whole body's muscles into shape and you get your cardio all at once…in so little time.
It's time for you to find out what you've been missing.
All you need to do to get your copy shipped right out to you is to click the order button below.
All I ask is that when you get the amazing results that I know you're going to get, that you drop me a line and tell me about it.
I can't wait to hear about your success.
Sincerely,
Laura Devlin
____Yes, Laura, I want to begin reaping all of the amazing health benefits of cardio kickboxing. I understand that your program contains both a Beginner's and Advanced Workout program, so I'll be able to use the one that's right for me. Finally, I also understand that I will have no risk because there is a 100% thirty day money back guarantee.