I'm Going to Reveal to You
One of the Most Powerful Secrets to
Getting Into Amazing Shape
Prepare to Triple Your Progress!
---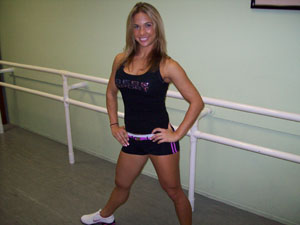 Hi, my name is Stefanie Bambrough and I'm a professional fitness trainer.
I have a Bachelor's of Science degree in Exercise Science and I'm AFAA certified in group exercise. I am also a professional fitness competitor.
I'm going to let you in on a big secret.
This secret is going to allow you to possibly triple your benefits from exercising.
Here it is…
A person's legs are probably the most important
body part that a person should work out!
Yet, your legs are the ones that almost always receive the least attention. Whether you're a man or a woman, having fit, strong legs is very important to both your health and your appearance.
Go to Any Gym to Observe
the Neglect First Hand
Look around any popular gym or health club and odds are you will see a ton of people working out their upper bodies. If you're lucky, you might see one or two people working out their legs.
Here's why the legs are so important:
Working out your upper body is great but if you forget to workout your legs or if you skimp out on your leg workout then you're basically trying to build a house with no foundation.
If you think about it your legs are what carry your body's weight. Your mobility is utterly dependent upon your legs.
Additionally, if the legs are not properly trained this will end up hurting your gains up top as well.
You Don't Want to Have
a Disproportionate Body
Building a well conditioned set of legs will help to improve your body's foundation and ability to hold more weight.
This will help you to increase your gains in your upper body and also help your body to look proportional.
Everybody has seen this at some point….a guy walks out on to the beach or in the gym with a massive upper body and little chicken legs. (It always makes for a good laugh!)
It's a Medical Fact That Working Out
Legs Helps Your Whole Body
It's a medically proven fact is that working out your legs is essential to reap maximum gains from your workouts. The reason is that your muscle groups in your legs are some of the largest muscles in the body
When you work out your legs, your body releases anabolic hormones to other muscle groups, therefore allowing you to grow everywhere. (1)
Additionally, the development of your core, hips, and legs will transfer into added strength when performing work with your upper body. Energy can be transferred from the lower to upper extremities if you have a strong core. (2)
When training your legs, you're basically working half your body in one session.
Training your leg muscles doesn't only work your lower half…it actually works your entire body, increases your heartbeat and gets your blood flowing to help burn fat and work your cardiovascular system.
Doing the Right Exercises Are the Key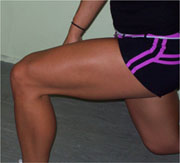 One thing you should know about leg workouts is that if you don't do the right kind of exercises it's possible to see little results.
And, you want to be careful about not hurting yourself.
As a professional fitness trainer and competitor I know from experience what can happen if you do the wrong exercises or simply just do them the wrong way.
First, you should understand what muscles you should be working out…
Your main leg muscles consist of many different smaller muscles but for our understanding we'll divide them into the following:
gluteus (buttocks)
quadriceps (front of the upper legs)
hamstrings (back of the upper legs)
calves (back of the lower leg)
If you do your leg exercises with incorrect form there can be negative repercussions such as knee injuries or twisted back muscles.
As a professional fitness trainer and competitor I see people with these kinds of injuries all of the time.
That's why I've taken the time to design a custom exercise program that will address all of your muscle groups with safe exercises that can be done with little risk of injury.
In addition, I know that everyone isn't always in the same shape to start with.
Some people have some limitations as far as other injuries or conditions and some people are simply brand new to exercise.
Then, there are people who have been exercising and are in pretty good shape.
So, I knew I needed an exercise program that provided the right exercises for both types of people.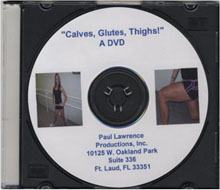 I'm very proud of my new system which I'd like to introduce to you called…
Calves, Glutes & Thighs
This program is personally instructed by me on a DVD.
In the DVD there are exercises for everyone whether you're a beginner or a veteran.
In each exercise I explain to you exactly how to do the exercise, what muscle group it's for and I even lead you through some sets so you can follow along at home.
If you want to hear about some of the people that have gotten amazing results with my program listen to these statements I have on record in my office files:
"I'm in my forties and in pretty good shape, but I knew I've been neglecting the legs. I feel a lot better doing the exercises in Stefanie's course. I'm feeling stronger and more well balanced."
Paul. B.
"I don't have time to go to the gym, but I'm wanting to keep my backside and legs firm. The Calves, Glutes and Thighs is working amazing for me."
Blanca S.
"I'm a man in my late fifties. Truthfully, I'm exactly guilty of what Stefanie writes about. I tend to ignore my legs and focus on chest and arms. Then, one day I looked in the mirror and realized I was getting lopsided. I had a big torso and pencil legs. I'm really glad I found this program."
Mike M.
Now, that I'm at that age where retirement is around the corner I want to really do what I can to keep looking young. But, I'm not comfortable going to a gym nor do I have the time. This Calves, Glutes and Thighs program is really helping me get into shape without getting hurt. Thanks, Stefanie!
Lois A.
I Charge $60 an Hour For Private Coaching
If you were to have me start coaching you three times a week, the truth is you could end up with a pretty hefty monthly bill.
That's why I'm so excited about this DVD instructional program!
It's like you'll be getting private instruction from me, but it will be much more economical.
I'm sure you can see how a $100 would be a reasonable fee for this course.
But, when I agreed to produce this DVD I made sure that the marketing company would keep it at a price that would make it affordable to everyone. I'll get to the exact price in one moment, but first I want to give you some more good news.
You Will Have Zero Risk!
I am so sure that you're going to feel so happy once you start my program…with your strong sturdy, sexy legs, that I'm willing to guarantee it.
So, here's the deal:
I want you to try my Calves, Glutes and Thighs Program for a risk free 30 day period. If any time during the trial you decide that this program isn't everything I promised, you can return it for a full refund. Just mail it back to the address on the label and you can have your money back…no questions asked.
But, that's not going to happen because you're going to love this program. You're going to burn extra fat, cause your body to release additional muscle building hormones into your bloodstream and you're going to feel great.
So, now you have no reason not to give it a try.
Only $29.95!
I promised you a very reasonable price and I feel confident that I delivered. After all the price for the Calves, Glutes and Thighs Program is less than what one private coaching session with me would cost.
Or if you want to compare it to the gym, think of this: An average monthly fee for a gym is about $35. So, multiply that by 12 months and you've got yourself a $420 bill.
The Calves, Glutes and Thighs Program is less than just one month at most gyms and you never have to pay another cent.
But more important than the money is that you're going to start getting a proper workout.
As I've proven to you, working out your legs is really critical whether you're a man or a woman.
I wouldn't feel right if I didn't mention though that I did agree with the producers that they could raise the price in the future once this test marketing phase was done.
So, if you want to lock in your bargain price, you should order it right now because I can't guarantee that the price will be this low forever.
Also, I'd really appreciate it if you would consider sending me a note and even maybe some before and after pictures once you've started getting the results from my Calves, Glutes and Thighs Program. I just love to hear about people's successes.
I can't wait to hear about your success!
Sincerely,
Stefanie Bambrough
____Yes, Stefanie. I want to have amazing fit legs, so I can feel and look great. I definitely want to burn off fat and have a body that is proportionate. I also understand that I won't have any risk because I will have a full risk free 30 day trial period.
1. http://www.nutritionalsupplements.com/routine35.html
2. http://www.ironmagazineforums.com/